Penerbitan Fakultas Biologi Universitas Jenderal Soedirman saat ini menerbitkan dua berkala ilmiah online di bawah ini. Publikasi dalam bentuk prosiding seminar dan simposium yang diselenggarakan oleh Fakultas Biologi Universitas Jenderal Soedirman dapat diakses di tautan berikut [ Pertemuan Ilmiah ].
Majalah Ilmiah Biologi Biosfera: A Scientific Journal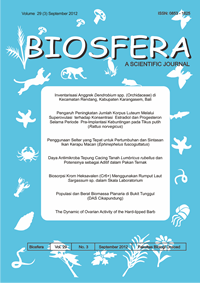 Majalah Ilmiah Biologi Biosfera : A Scientific Journal is a media that published by Faculty of Biologi, Jenderal Soedirman University. The Journal accomodates peer reviewed articles which is a results of research in tropical biology which includes cell biology, genetics, evolution, taxonomy, biodiversity, structure and function, developmental and reproductive biology, entomology, microbiology, and ecology. Published three times a year (January, May, September).
Current Publishing Number »
Focus and Scope »
Editorial Board »
Author's Guide »
ISSN Print : 0853-1625
ISSN Online : 2528-2050
Frequency of Issue: Four Months
Contact »

Scripta Biologica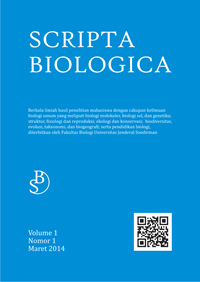 Scripta Biologica is a peer reviewed open access electronic journal published by the Faculty of Biology Jenderal Soedirman University, publishes research papers encompasses all aspects of biology, including; molecular biology, cell biology, and genetics; physiology and reproduction; ecology and conservation; biodiversity, evolution, taxonomy, and biogeography.
Editor-in-Chief: Romanus Edy Prabowo
A Quarterly Journal: March, June, September, December
Current Issue: Table of Content
All articles have digital object identifier
assigned to Crossref
Taxobio
Taxobio is an open access, online-only, peer-reviewed journal, publishes scientific papers in taxonomy, nomenclatural review, classification of taxa, introduction of new methods for data development and analysis, gene ecology, population genetics, genetic diversity, biodiversity and phylogenetic studies.